Warning
: Undefined array key "random_ads_start_direction" in
/webroot/g/r/grayf002/59mil/www/wp-content/plugins/ad-injection/ad-injection.php
on line
1087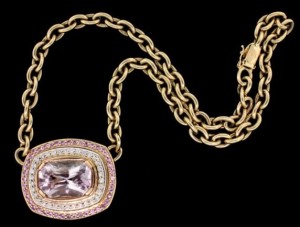 Most of former Dixon Comptroller Rita Crundwell's big-ticket possessions are long gone. The hundreds of championship horses, the lavish houses, custom jewelry collection, a motor home fit for a rock star — they've all been sold off as part of a unique effort to pay off Crundwell's staggering $54 million judgment for looting the town's coffers over more than two decades.
Now, with Crundwell serving a 191/2 -year prison sentence and her tab still north of $44 million, federal prosecutors want to seize a decidedly lower-rent collection of items from her former ranch in Beloit, Wis., where she used stolen funds to amass not only a world-class horse breeding business but also a laundry list of knickknacks, some on the tacky side. There's framed artwork depicting a horse drinking beer, a chair made of horseshoes and a leather tissue box embroidered with Crundwell's initials. There are monogrammed ashtrays, wagon wheels, horse sculptures and decorative pillows. Even a photo described as "Rita & Dogs" must go, the feds say. The most symbolic, though, of Crundwell's seemingly insatiable greed might be her collection of more than 700 horse breeding and competition trophies that once littered her Meri-J Ranch.
Longtime Dixon Mayor Jim Burke said Friday that most of the remaining assets are "junk" that will probably wind up in a rummage sale but that the trophies go to heart of Crundwell's crimes. Rather than trying to sell them, he's going to propose that the Dixon City Council formally ask for the awards to be returned to the city, saying they could someday be used in a "teaching way" about the dangers of greed. "That was what it was all about," Burke told the Tribune by telephone. "It wasn't about horses, it was about trophies."
Crundwell, who started working for the city's Finance Department in 1970, pleaded guilty in 2012 to funneling money from various city accounts into a secret account she controlled. The thefts began in 1990 and grew bolder over time, peaking at $5.8 million in 2008 alone, according to her plea agreement. Authorities have called her massive theft perhaps the largest municipal fraud in U.S. history. In selling off many of Crundwell's most valuable assets through a series of auctions, the U.S. Marshals Service has already recouped about $9 million for the city after expenses, court records show. The most prized of the 400 or so horses auctioned off in 2012 was Good I Will Be, a world-champion stallion that was purchased for $775,000 by a Canadian woman who had recently won a multimillion-dollar lottery jackpot. About a year later, though, the horse was euthanized after surgery at Texas A&M University Veterinary Hospital. Dixon received another windfall of $40 million in 2013 when it settled a lawsuit against its auditors and bank for failing to catch Crundwell's wrongdoing. Just less than $30 million ended up in city coffers after legal fees. Later that year, several hundred of the city's 16,000 residents turned out for a meeting to offer opinions on how the money should be allocated. While some advocated cash payouts to residents, most wanted the city to be cautious with the money, the mayor said. Burke said the city ultimately decided to use more than $20 million to boost reserves and pay down debt that had accumulated, largely because of Crundwell's fraud. There have also been investments in long-term capital improvement projects. The city, best known as the boyhood home of President Ronald Reagan, recently completed a $6 million downtown streetscape project funded by the settlement money, Burke said.
Another project is in the works to connect two vital walking paths along the Rock River. Burke, who is stepping down in April after 16 years as mayor, realizes the city has been lucky to recoup so much of the losses, especially considering victims in many fraud cases never see a dime of their money returned. "We've been very prudent and reinvested in the city," he said, "and we're sitting in pretty darn good shape." U.S. District Judge Philip Reinhard has yet to rule on the government request to seize Crundwell's trophies and other items found at the ranch. Once they are dealt with, Burke said, there are still a few big-ticket items left that could mean even more restitution to the city, including the sale of Crundwell's interest in two Dixon-area farms that total about 325 acres.
From
http://www.chicagotribune.com/news/local/breaking/ct-rita-crundwell-assets-met-20150102-story.html