Warning
: Undefined array key "random_ads_start_direction" in
/webroot/g/r/grayf002/59mil/www/wp-content/plugins/ad-injection/ad-injection.php
on line
1087
From
A good article found at
http://www.whbf.com/story/19617003/more-than-2000-people-show-up-at-crundwell-horse-auction
Thousands came out for Day 1 of the horse auction at the Rita Crundwell ranch in Dixon, IL.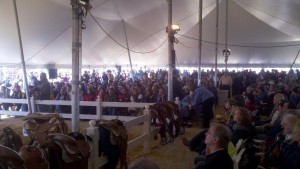 Visitors came from California, Arizona, Texas, and even Australia and British Columbia for today's auction – all hoping to head home with one of the 320 prized horses from Rita Crundwell's ranch.
"You don't run into this – it's once in a lifetime," says Don Miller, from Elgin, IL. "Under the circumstances of the sale, and the quality of the horses – they are absolutely the best in the world."
Locals were in attendance as well, waiting to see how much some of the horses would sell.
"I think they are going to go for a lot of money," says Jacqueline Full. "I'm from Dixon and my money's involved in it too."
While there are more than 300 horses up for sale, all eyes were on horse number one. "Good I Will Be" is the crown jewel of Rita Crundwell's collection.
The horse sold for $775,000 to Sandra Morgan, a horse show person from Langley, British Columbia. Her agent says it was a steal grabbing a horse like this.
"You don't usually find this everyday," says Stephen Stephens. "To have one person's life making here on display and the same individual 'Good I Will Be.' The opportunity and the road she has already paved for this horse was just somebody's great benefit to be able to purchase him."
"Good I Will Be" will travel to Oklahoma City for the World Show in November. Then he'll head to his final destination, Weatherfield, Texas, where he will be used as a breeder horse.
For the past five months, the horses have been cared for by U.S. Marshals.
"Certainly never before in my career here have I managed something like this as large as this is," says Jason Wojdylo, Chief Inspector for the U.S. Marshals. "It's been unprecedented."
Maintenance fees were piling up, topping for than $1.3 million for the Marshals to care for the horses. After discussions with Rita Crundwell, it was ordered that the horses be sold while still maintaining top value.
"She has a lot of world champion horses," says Jennifer Fecht, who cared for the horses while working for Crundwell. "It takes all day to feed and clean their stalls."
After this auction, marshals will start selling furniture, real estate and other personal property of Crundwell's.
If Crundwell is found innocent, she will reap all profits from the auction.